Mandy

Place of Origin:

Earth, New York City, USA

Age:

16

Colors:

Date of Birth:

February 06, 1994

Relationships:

Lucy (best friend)

Race:

Human
Appearance
Mandy is a pale skinned redhead with pink highlights and light blue eyes.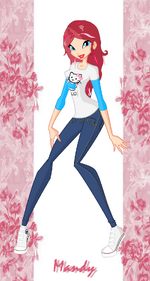 Civilian
Mandy wears blue jeans and a "Hello Kitty" T-Shirt and white sneakers.
Winx
Mandy's Winx form consists of a pale blue flowy dress with a sweetheart neckline, pale pink shorts, and pale blue and pink high heeled ankle boots with white bows on them. Her wings are heart shaped and look like they're made of glowing wires, with a pink wire on the inside and a blue one on the outside, and white material connecting them.
Charmix
Enchantix
Believix
Sophiex
Lovix
Personality
Mandy is a fun and caring person, she has a great sense of humor, she can be a bit hot tempered but she can also be very sweet. Her personality resembles Lucy's personality.
Story