(Note: Are you artistic? Do you love desiging outfits? Well heres your chance to show off what you have! Any artwork of Marie will be displayed on this page! Credit will be given!)
Marie is the fairy of nature and the main protagonist of The Elements: The Five.
Princess Marie

Name

Marie

Age

15

Birthday

April 18th

Origin

Marigold

Power

Nature, Animals

Fairy Colors

Light Green, Pink, Magenta, Lavender

Relationships

Bracken (twin brother)

Zhane (boyfriend)

Hunter (ex-boyfriend)

Likes

Animals, Nature, Music, Sports,

Dislikes

Water, Heights, Clowns, Animal Abusers

Animal bonded with:

Red Fox
Background
Personality
Marie appears shy at first, but is very uptight and considered very bossy. She likes to be the leader, and strides to be the best. She tends to speak before she thinks when she is upset. However, Marie is very loyal and friendly, and is always a helping hand.
Fanfictions
The Elements: The Five Elements
A Light in the Darkness
Appearence
Marie is very tan, with narrow ice blue eyes, and has semi-long brown hair with caramel high-lights that is wavy.
Civillian
Marie wears a white short-sleeved shirt with flowers printed, and dark blue short-shorts with brown wedges. Her other outfit is a salmon colored short-sleeved, v-neck, flowy shirt with cream short-shorts with silver gladiator sandles.
Fairy
Marie wears a spring green, midriff top with matching shorts and ankle wedge boots. Her wings are trimmed gold and foam green.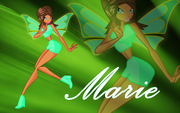 Powers and Abilities
Weapons
Spells
Trivia
Marie has been inspired by:

Flora, Aisha and Roxy from Winx Club
Ichigo Momoiya (Zoey) from Tokyo Mew Mew
Sailor Moon from Sailor Moon
Fin from Stoked

Marie has been altered many times throught her "planning and development" stage:

Marie orginally was supposed to have power of nature
Marie has two other siblings, they were all triplets: Toklo (now Bracken) and Rose
Marie did not have a past life/reincarniated
Marie's personallity has changed from being crazy, insane, loud mouth to her somewhat "type-A" personallity
Marie's appearence had some changes as well

Her hair color was dark brown
Her eye color was lime green
Her skin color was fair
She was the tallest out of The Elements, now shes "medium" hight

Maire, Hollyn, and Sorrel usually confuse Sorreltail18 when she writes drafts and draws them out since they all look alike

They all have wavy brown hair
They all are tan
They protray as the main protagonist
All The Element stories tie in together

Marie and Hollyn are best friends
Sorrel can't stand Marie, vice versa
Both Hollyn and Sorrel liked Marie's brother Bracken

Marie's fairy outfit has drastically changed.
Marie means "bitter" in French.