Characters

Episodes

Fan-Fictions

Teams

Transformations

• Welcome to Winx Club Fanon Wiki! •
This is a place where you can make your own fictional Winx Club character's profiles, add their pictures and write down their biographies, publish your fan-fictions, and more! All articles added by users are needed to be related to Winx Club to be entered into this database, which we warmly welcome here as long as our simple rules are followed.
Creativity is a must!
About Winx Club
Winx Club is a 2004 Italian animated fantasy/adventure series created by Iginio Straffi and produced by Rainbow S.p.A. The series is aimed toward children between the ages of six and fourteen and has spawned an international franchise of toys, books, games, clothing, DVDs, and three CGI feature-length films.
More information and details on the franchise could be found on the canon wiki, Winx Club Wiki.
Featured Character
Nevada Istas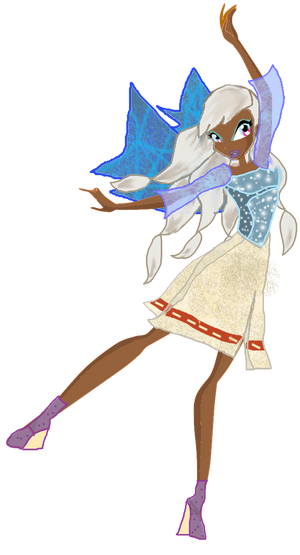 Nevada Istas
of Ciquililiac is the regent monarch of her kingdom of origin. Nevada had stood down her post as heir to the throne due to her disinterest in running a kingdom as it is for the better of her people. Nevada is of Inuit descent and is proud of her heritage. Nevada is the Fairy of the Permafrost or simply known as the frozen ground.
Featured Fan-Fiction
Petitix Club Episode 1
Creona City, a city filled with creativity and wonder. Enthusiastic people, young and old, come to this city for it's bright and peaceful culture. A girl from another town, gets to experience the city as it will be her newfound home full of excitement and adventure.
"We're just a few miles ahead into the city. This feels like one of our family road trips, only this is permanent!" Her mother replied as she read the map.
"To be honest, I really don't miss our old town at all." Her father spoke as he continued to drive.
"But you do miss your old working partners, right?"
"Of course, I do miss hanging out with the guys, and you and your book club members. But what's important that we'll make a fresh new start. Besides, we're not the only ones that are this thrilled to move out of town." The man looked in his rear view mirror to find his daughter in the backseat looking out her window excited for living in the city.
"Anya, are you ready for the big city?"
"Are you kidding? I've been waiting for my whole life to live in a city like this!" She said with excitement
"We'll take that as a yes." Her mother giggled
As Anya rolled down her window, she peeped her head out, with the wind blowing in her face and flowing through her long black hair shouting: "Goooood morning, Creona City!!"
Featured Art
Affiliation(s)

Recent
Newest blogs